Improve Team Well-Being.
Shared Gratitude Journal for Slack Teams

#gratitude-wall


5-day free trial (no card asked).
Adding to Slack means you agree to our terms and privacy policy.
Gratitudely is a simple, fresh way for your Slack team to keep a shared gratitude journal - a "gratitude wall".
Benefits of Gratitude
The benefits of the gratitude journal, list, diary, log - whatever you wanna call it - have been proven time and time again through academic studies. References >
You probably already know, but let's go through some, shall we?
Increased happiness and life satisfaction.
More self-esteem, motivation, and resilience.
Reduced stress and anxiety.
Better health; physical and mental.
Improved brain activity.
Better focus.
Basically, better well-being.
You get the drift.
Beautiful "Gratitude Wall"
A #gratitude-wall channel will be created after Gratitudely is added to your Slack.
Your team members can add gratitude entries to be published to #gratitude-wall first (members can remove their entries from the channel anytime).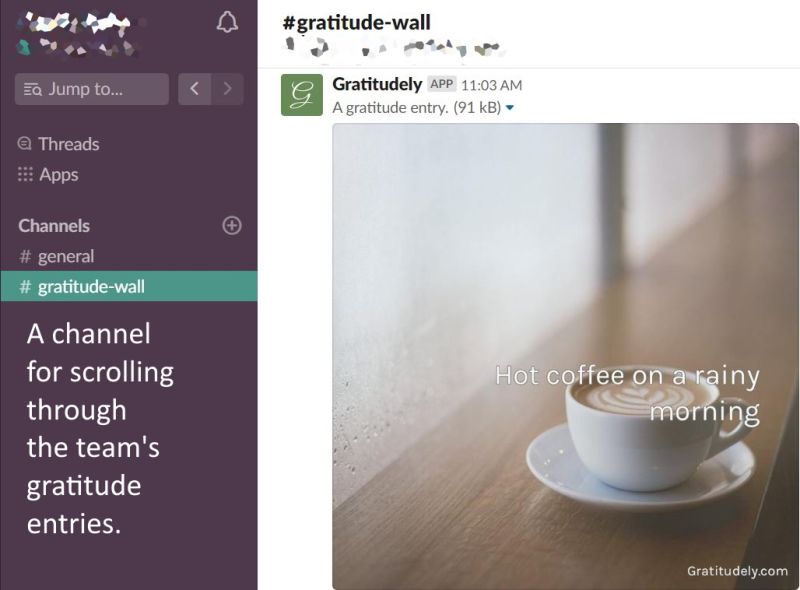 For each entry, Gratitudely generates a beautiful square image with the gratitude entry text overlayed. Here are a couple of examples: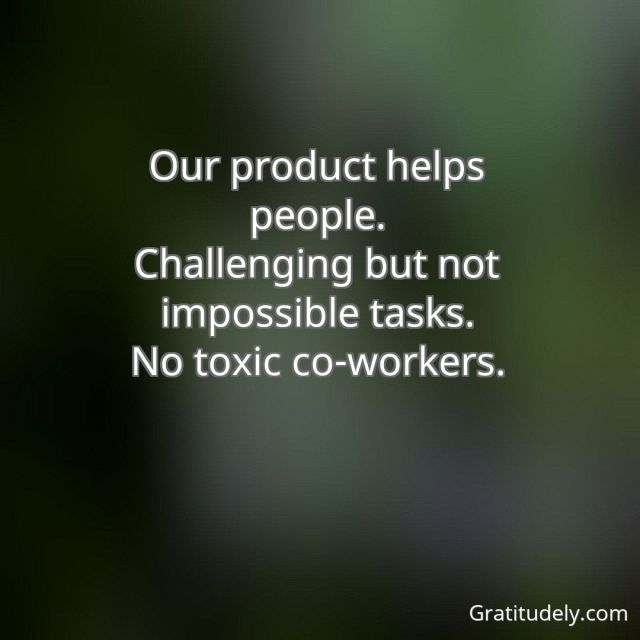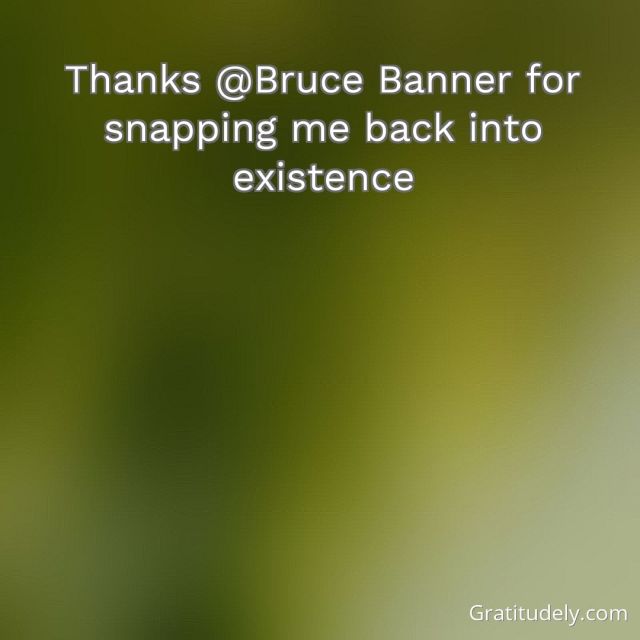 The backgrounds (over 200 and counting) and text placements are randomly chosen (you can randomize these to your satisfaction).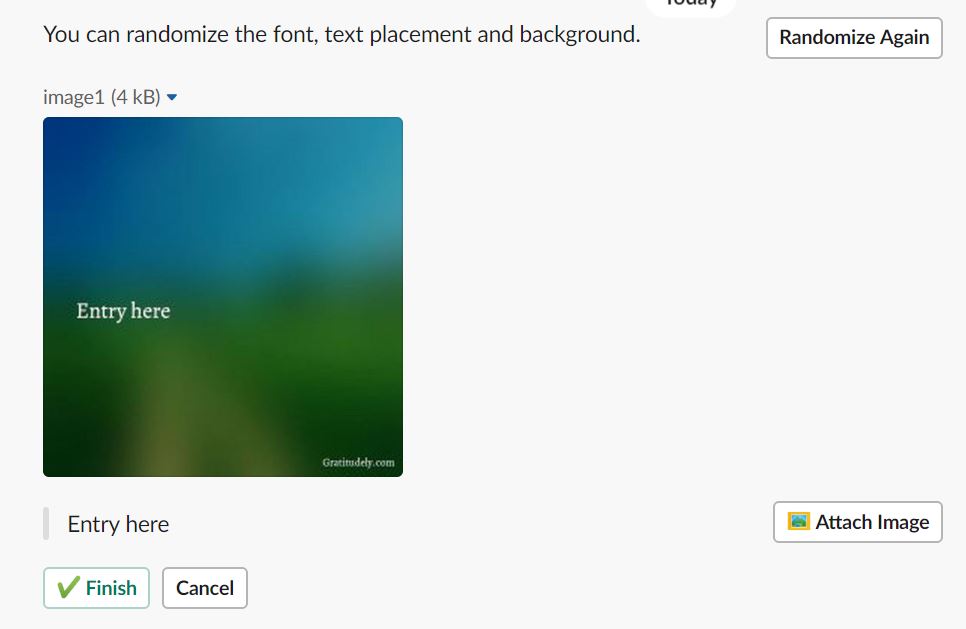 Entries don't need to be about thanking a co-worker every.single.time. That would feel forced and fake which would defeat the purpose.
What about the amazing sushi dinner you had last night? You can attach pictures, too! A random filter (based on our backgrounds) will be applied.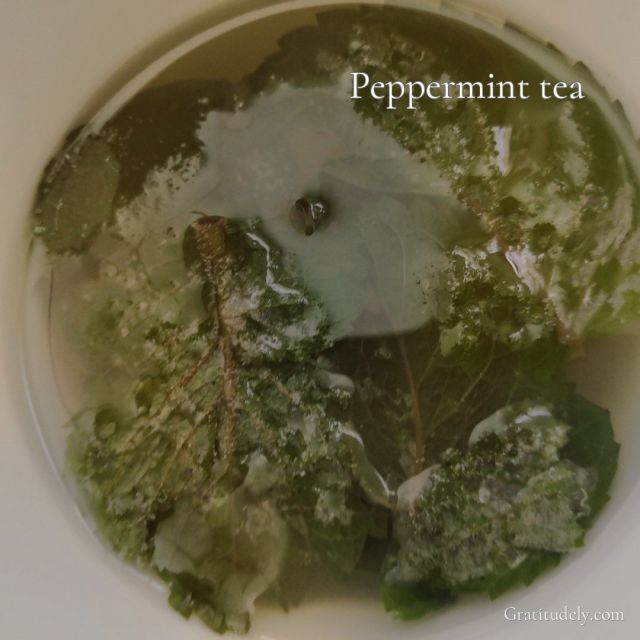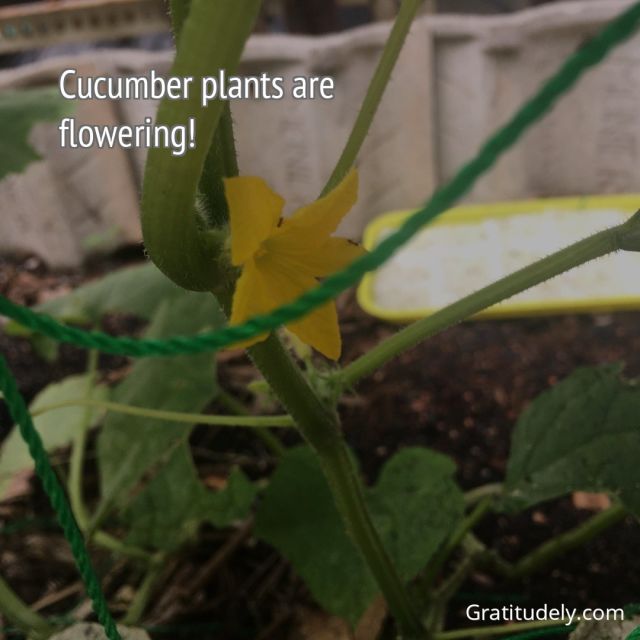 Simple to Use
Adding a gratitude entry is very simple: just use the /gratitude command.

You can also just straight upload an image and use the /gratitude command in the file upload message.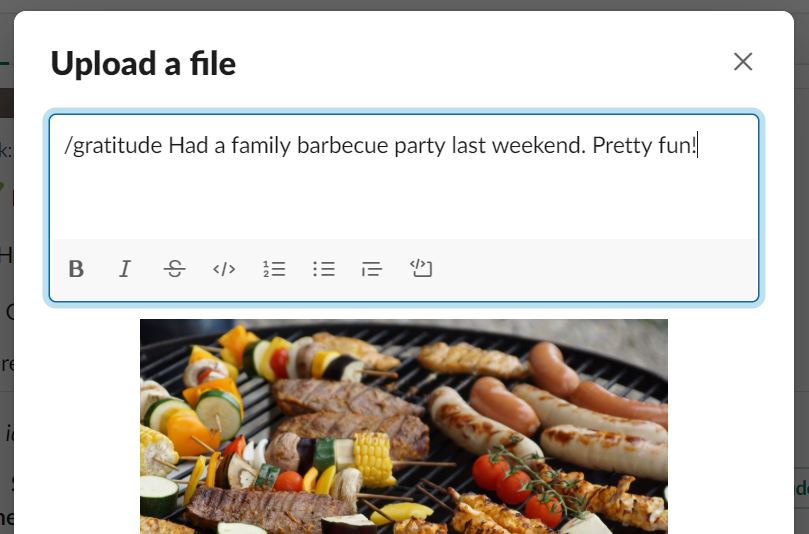 Gratitude can be a pretty hard habit to build. The world isn't really this cheery fairytale where everything is fair and just, is it?
Sometimes we're just too busy or distracted or just plain tired and sad and stressed to remember. The Gratitudely bot will slide into your DMs to remind you.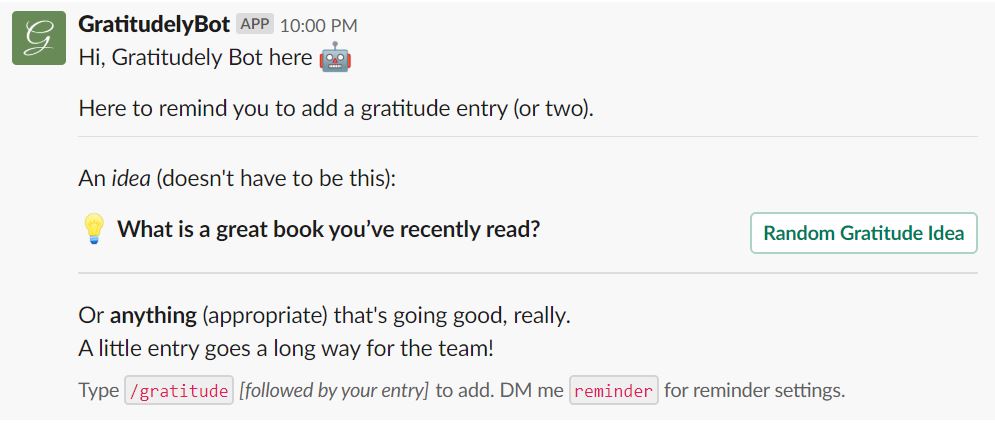 By default, you will receive a reminder every weekday morning at around 11 AM, according to the timezone set in your Slack settings.
Of course, the reminder time can be changed. We advise you to use the "Weekdays" option for a couple of weeks, then change to 3 times a week to prevent "gratitude burnout".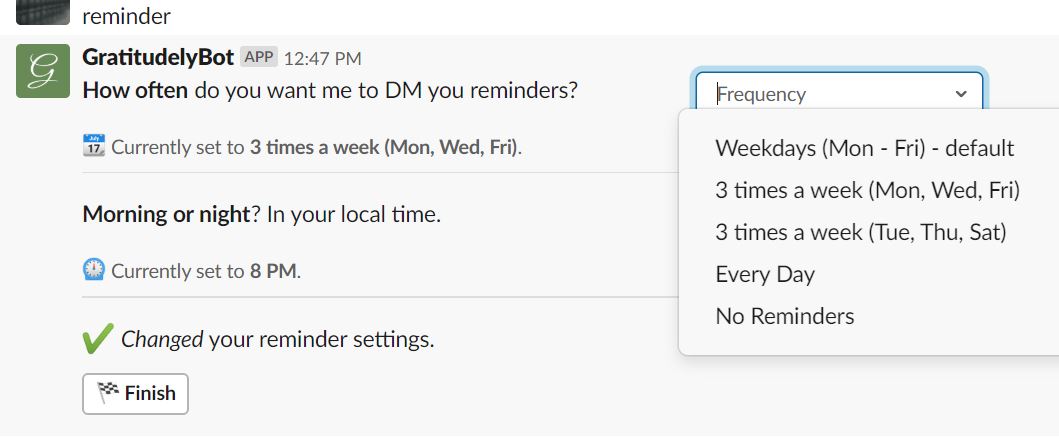 Short & Simple.
The purpose of Gratitudely is to continuously train your brain pathways to notice and focus on the good little things in life...and, well, the big and medium ones.
It's not about your writing prowess. Just a sentence or two about, say, your small wins...or something we take for granted.
Good weather days, for example. Or simple pleasures from chores.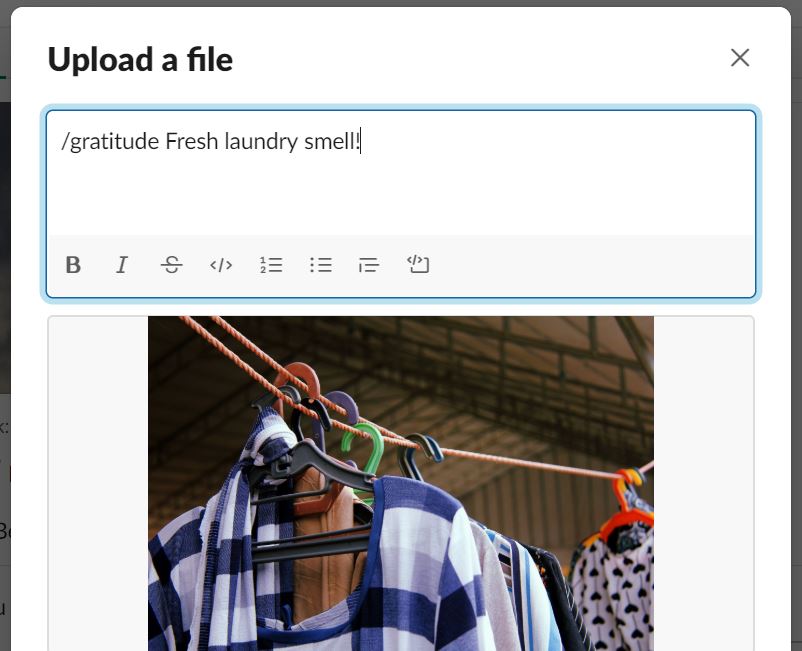 There is no need to channel your inner Shakespeare. Just short jot-down sentences about, say, good moments or exercise done today.
Including more specific details would be great, but not necessary.
You can write lists or multi-line entries. Just make sure to keep it under 160 characters (including spaces) and 7 lines max.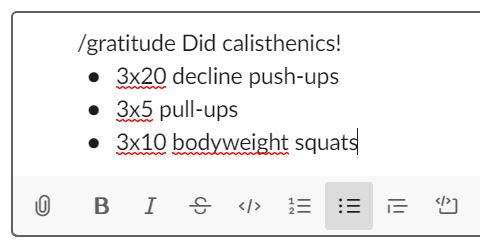 There will be a time where you just can't think of anything. It happens to everyone. Simply click/tap the Random Gratitude Idea button.

The Gratitude Ideas are simple, randomly-picked prompts, such as:
Something good about today's weather.
What is one food you are grateful for?
One tool you can't live without.
A small win that you accomplished in the past 24 hours.
What do you have now that you didn't have 5 years ago?